As I've been getting into my blog-writing career here with Everon, I have been writing a lot of posts about Macs. My love of Macs started before I got into IT. Now that I am in IT I realize that, although I know a lot about the Windows OS, I am not as familiar with Macs, despite owning a few. In all reality, anything you do with a PC can be done on a Mac. (And there are many really cool tools that help you achieve your goals.)
In previous blogs, I have discussed a great cleanup tool called Onyx. I also discussed using the Network Utility tool for a Mac. In my latest blog, I want to discuss a tool that, before we were aware of the tool, we had tried for DAYS to get this working. This tool took our days of work and finished the job in 30 minutes. (I know: anyone who is more Mac-savvy probably could get the job done quicker, but for a Windows engineer, this was a tough task). The tool is called Carbon Copy Cloner.
Carbon Copy Cloner effectively and easily clones a drive in its entirety, so you can put a new drive in and change out hard drives. This is extremely important for many reasons. First off, if your drive is showing SMART errors, and you know the drive might fail soon (which you can find out by using Onyx), you will want to get a new drive in there ASAP. Also, in our case, the client wanted to go from a 240 GB drive to 1 TB in order to increase his disk space. I would also recommend using this if you want to use a solid state drive, as that is becoming the go-to for fast, reliable hard drives.
You can purchase a copy of Carbon Copy Cloner here: https://bombich.com/. However, you can also demo a 30-day trial, which works great for cloning one drive onto another. When starting up CCC, you simply choose your source drive and destination drive (also really great for complete backups), and allow it to copy.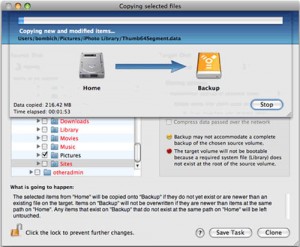 Once done, if you were copying your bootable drive, you could then put the new drive in and boot off of it.  If you are using it for backup, you could then mount the image and grab whatever you need. It is literally a one-for-one copy of your drive.
This product has a ton of other features, but I am not going to get into the details about those, as you can go to the site and review yourself. However this is my go-to every single time now for closing and replacing hard drives for a Mac. I would strongly urge you to review this product as well.
Up next for my Mac Tips for Techs: NetSpot. Your go-to tool for reviewing wireless networks.