A few weeks ago, ZDNet's Ed Bott reported on the way that potentially unwanted software gets installed with Java. Here's what to look out for.
With the frequency of Java updates, you have probably seen (and ignored) the popups that ask you to install. But if you do run an update (which you very much should, if you need to have Java installed at all) or if you are about to install Java for the first time, here's what you want to look out for.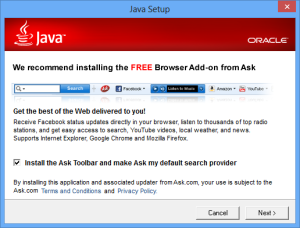 In the installation process (that most people just click through without worrying about what the default settings actually are), one of the screens that comes up is the one above. It clearly states that Oracles recommends installing it, and it provides a whole bunch of things that need to be right in front of you at all times, like Facebook status updates and YouTube videos. And it works with Internet Explorer, Google Chrome, and Mozilla Firefox. What's not to like about any of that? So you click next, the Java installer does its thing, and then you see this screen: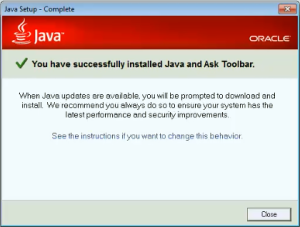 Success! You click close and you open up Internet Explorer, Google Chrome, and/or Mozilla Firefox to check out your shiny new Ask Toolbar. But the toolbar is not there. What gives? Without telling you, the Ask Toolbar installer sits on your system and does not run for 10 minutes. And only then it runs silently, with no GUI or any other indication that it's running except for a momentary blink of an hourglass cursor while you are doing something else.
Along with the annoying toolbar, your browser's default search engine also gets set to Ask, so even when you don't use the toolbar, you are getting results from Ask unless you explicitly visit another search site's URL first. Aside from the poor search results compared to Google or even Bing, this is shady and dishonest and Oracle owes Java users more than that, since we have so many security problems with Java to begin with.
Do you have questions about toolbars or search engines that are in use by your organization? Give Everon a call today!