Lately I have been writing a lot of blog posts for my love of all things Apple, and for the most part I am still very much in love with Apple products. However, this week has been hell for me with my Mac mini at work. I feel the need to vent here.
As I have mentioned before in blog posts (found here and here), you might want to think twice about installing Yosemite. But the allure of having the latest OS for my Mac was getting to me, so over the past several weeks, I had been trying to install Yosemite on my Mac… with discouraging results.
When downloading and installing Yosemite, I would consistently receive the following error: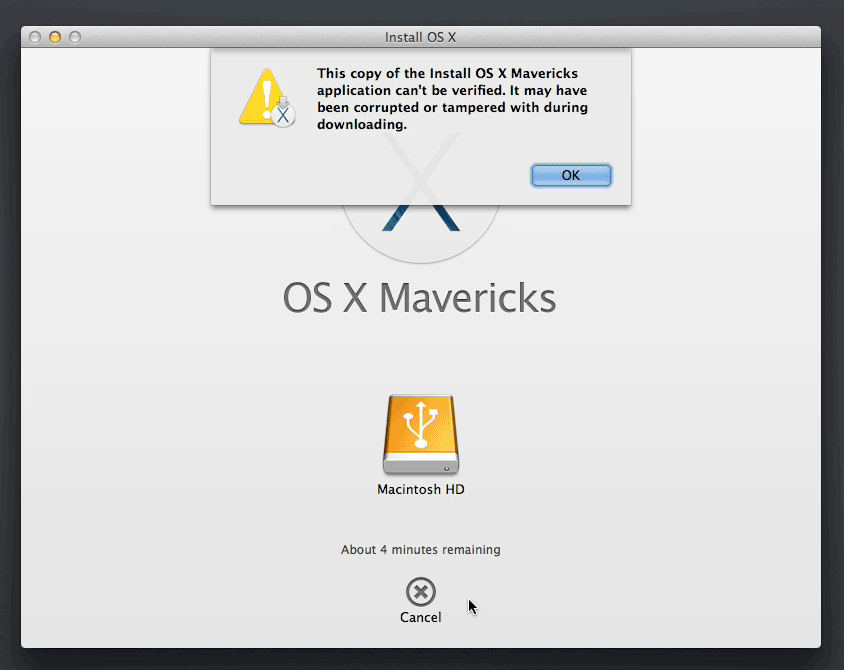 I did extensive research to find out what was going on. I even downloaded the Yosemite installation on a separate Mac on a separate network, and still, when trying to install on my Mac mini at work, I received the error.
I even tried creating a bootable Yosemite USB drive (found here), but no luck! What gives?!
After much research, I thought the answer was that I was using an Apple account to download the package that was not associated with a previously purchased OS. I had heard grumblings that you cannot install Yosemite unless you have a previous OS on your Apple account (which I didn't necessarily believe), however, I figured, "Why not?" So I signed in with my personal Apple account. I have a purchased OS on the account, I tried the update, and that's when everything went dark.
My Mac gave me the Apple-equivalent of the blue screen of death: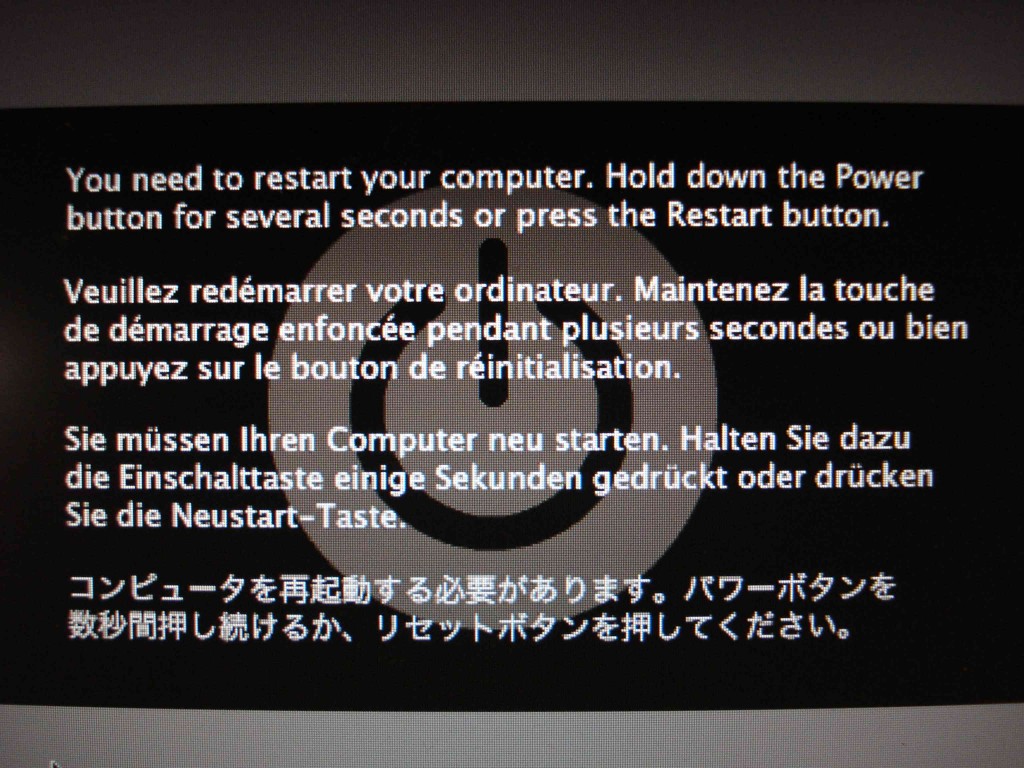 I tried restarting the Mac and found that not only could I not finish Yosemite, but I couldn't boot into Mavericks, either! Oh no! What will happen to all of my sweet cat photos that I use as wallpapers? (No, I did not back up this Mac beforehand.)
I ended up booting into the recovery utilities (Apple+R) and trying to repair the disk via Disk Utility. Sadly, it would not repair the disk. To be honest, I have been in this situation before, and I have NEVER seen Disk Utility actually repair the OS, so I didn't have high hopes.
I also tried testing the hardware on the Mac by holding down the D-key upon startup. I received an error stating that it could not connect to Apple to perform the tests (this is an Internet-based test). I had nothing left to do but to go back to Mavericks with a new installation.
I installed Mavericks and decided, "Now that I have a fresh, completely new version of a Mac OSX, maybe I can update to Yosemite now?"
No matter what I did, I could not update to Yosemite. Fine. If Yosemite didn't want me, I didn't want it. I would stay with Mavericks and enjoy my Apple life.
Upon deciding to install the rest of my applications, I was greeted with another Mac BSOD! And again, like last time, I could not boot to Mavericks! Argh!
At this point, I was done with Apple. I was ready to become a Microsoft lifer and swear off Apples forever. However, I powered through, installed Mavericks one more time, and installed all of my applications.
At this point, though, I am cowering in fear of my Mac mini. I feel like, any wrong turn, and I will receive the ill-fated BSOD. I am scared of my Mac right now, and that isn't the way to be. As a technician, you can't be scared of the system you are working on. Being an IT engineer, you need the confidence that you can fix anything. That is the best way to succeed in this ever-challenging business, so, with that, I need to learn more about Macs. I need to learn how to read the kernel panic commands I am receiving, and I need to take charge and show the Mac who is boss!
I figure in the coming weeks I will tackle this head-on and try to beat it. But for right now I am a wounded duck, cowering in the weeds, hoping the hunter doesn't find me.
I expect that my love of all things Apple will come rushing back when I make a breakthrough. Then, you can expect more Mac posts from me. But not at the present moment. Right now, Apple and I are having a little spat.