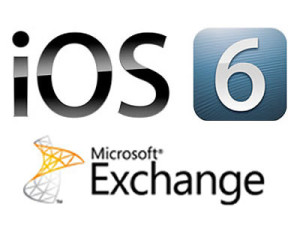 Is your Exchange server getting bogged down by your iPhone, iPad, and iPod Touch users running iOS 6.1 because of the Exchange bug? You may have seen increased network activity or increased Exchange processor load on the server or decreased battery life on the effected iOS devices. You may have heard about iOS users complaining that their device was suddenly no longer connected to the Exchange server. The cause can be the iOS 6.1 Exchange bug, encountered when you responded to an exception to a repeating event from your iOS device. If that all sounds Greek to you, that is fine. What you need to know is it is not a very common situation where your users would encounter the bug, but it can have a big impact on the performance of your server and your mobile devices.
Luckily, Apple has promised a bug fix to released very soon in an iOS update and in the meantime, they have published a workaround. Here are the steps you have your users follow to temporarily resolve the issue:
Tap on Settings
Tap on Mail, Contacts, Calendars
Tap on the Exchange account in your accounts list
Tap on the slider switch for Calendars to move it from ON to OFF
Wait 10 seconds
Tap on the slider switch for Calendars to move it from OFF to ON
Bear in mind that this is only a workaround, not a permanent solution. But it should get your server load back to normal and give the effected users some battery life back until the update is pushed out by Apple.
Do you have questions about mobile devices and how to make them play nice with your Exchange server? Call Everon today!