Have you ever sent an email and the moment you hit the send button, realized you shouldn't have sent it? Or immediately upon sending it, realized your facts were wrong and needed to send a follow up? Or maybe you simply forgot to include the attachment you wrote three paragraphs about?
Well Microsoft Outlook and Microsoft Exchange offer a little known features that can help you with that.
Note: Keep in mind that this little trick only works if your email is sent strictly within your company or organization.
This feature is called "Message Recall" and "Message Resend"
The way it works is this. You hit send and realize your mistake.
Navigate to your sent items and open the offending message

In the ribbon find the item labeled "Actions" in the Move section and click it.
When you do, you will see the following choices: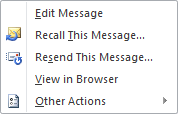 Select "Recall this message".
You now have the option to delete unread copies of the message and/or replace it with a new message and you can even track who you were successful at recalling it and who already saw it.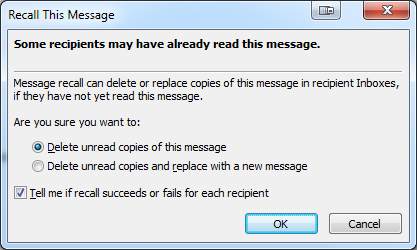 Once you've made your choices you can click OK.
Outlook will then notify you who it was able to recall the message from and possibly save you some embarrassment. These recipients will receive an email telling them you're recalling the message and when they open that email the mistaken one will be removed from their inbox or deleted items.
Now go back into your sent items repeat the above steps and this time select "Resend this message…"
You can now correct your errors and hit the send button.
Related posts: