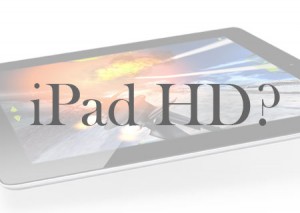 Today is the day many Apple and tablet fans have been waiting for; the iPad HD (not iPad 3) keynote!  Rumors have been circulating around the web about this product almost right after the release of the iPad 2.  For more information regarding the keynote see below:
Starting just before 10 a.m. PT/1 p.m. ET, Deputy Editor Chris Taylor and I will be squeezed next to each other, and dozens of other journalists, in the Yerba Buena auditorium as Apple CEO Tim Cook takes the stage. Cook will present what we expect to be the iPad HD. Big questions remain: Just how powerful and light will the new iPad be? Will it have a smaller, 7- or 8-inch sibling? Mashable
We could continue to discus all the rumors that have been floating around but it makes much more sense just to wait until we get official information today straight from the source.  All that we know (and even take that with a grain of salt) is that it will incorporate a high resolution retina display and an improved processor.  We are anxiously waiting for more news about this just as your are and once we get more information we will update this post to make sure you are not left out.
But for those of you that already have an iPad/iPad 2, will you be making the switch to stay current?  Granted we do not have all the specs on the product but from what I have seen in the past most people already have their minds made up before they have all the details.  Let us know in the comments!
Related posts: