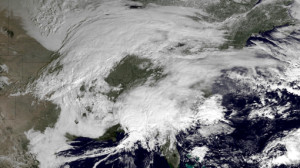 A historic blizzard is expected to hit the Northeast by Friday night. Here are some Best Practice steps to take to prepare for an extended power outage:
Have all users shut down their computers. This closes any open files and ensures you can cleanly shutdown the servers without disrupting anyone's open session.
Begin the shutdown process for all servers onsite.  If you need technical assistance please contact us at 1-888-244-1748.
After the server is shutdown, unplug the power from the server to prevent an electrical surge from damaging the hardware. If the server is plugged into a surge protector or UPS, this is not required.
Always make sure you have your information backed up off-site in case of damage to your equipment.
Make sure you have an email continuity system in place so email communications can remain uninterrupted in the event of an outage.
Other equipment such as modems, routers and switches should be turned off and unplugged if they are not protected by surge protectors.
If you are in need of any assistance, please contact us today 1-888-244-1748.
 To track Nemo's path and receive live updates click here.
Stay warm and stay safe, The Everon Team www.everonit.com
Related posts: