Recently I was asked about how to turn a cell phone into a wireless hotspot, for purposes of being able to go online with a laptop. I realized that this very simple process can be complicated for anyone who doesn't know how to do it, so I decided to write a post to help give some of the basic facts.
"Tethering" is the act of connecting a WiFi-capable device, such as a laptop or tablet, to your phone so you can utilize your cellphone's cellular data to get on the Internet. This is a more secure option, offering you more privacy than, say, using the WiFi at a coffee shop. You are essentially turning your cellphone into a wireless router. It's easier than you think.
The first thing to know is that this process is not free. You have to check with your phone carrier and add a tethering plan (or hotspot plan) to your service. The cost varies depending on how much data you want to have (or be limited to). In my case, I have AT&T. You can review some of AT&T's monthly data tethering plans here.
Once you have a tethering plan in place, it's very simple to use. My example is going to be on an iPhone. If you would like instructions on how to tether using your Android device, click here. You can also click here for instructions on tethering with Windows mobile.
For tethering with an iPhone, go to Settings ->Personal Hotspot, and turn on the slider button: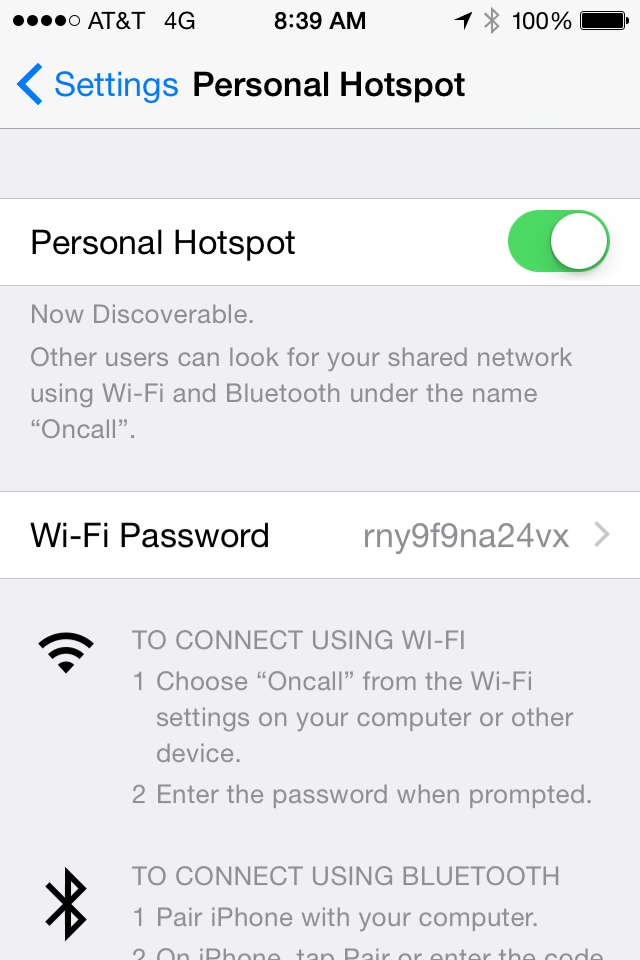 Once you turn the Personal Hotspot feature on, it actually gives you instructions on how to connect your device to the phone. In this instance, our SSID (the name of our hotspot) is "Oncall," so you will search for that SSID, which should now be discoverable.
Once you choose that, you input the special, randomly generated password you see on the Personal Hotspot screen, and it should connect you instantly. Note: even though your hotspot is discoverable by you, others won't be able to log onto it, as they won't have the password. Also, you do have the option to set your own password by clicking on the > next to the password. This will open a new screen that requests a special password for the hotspot.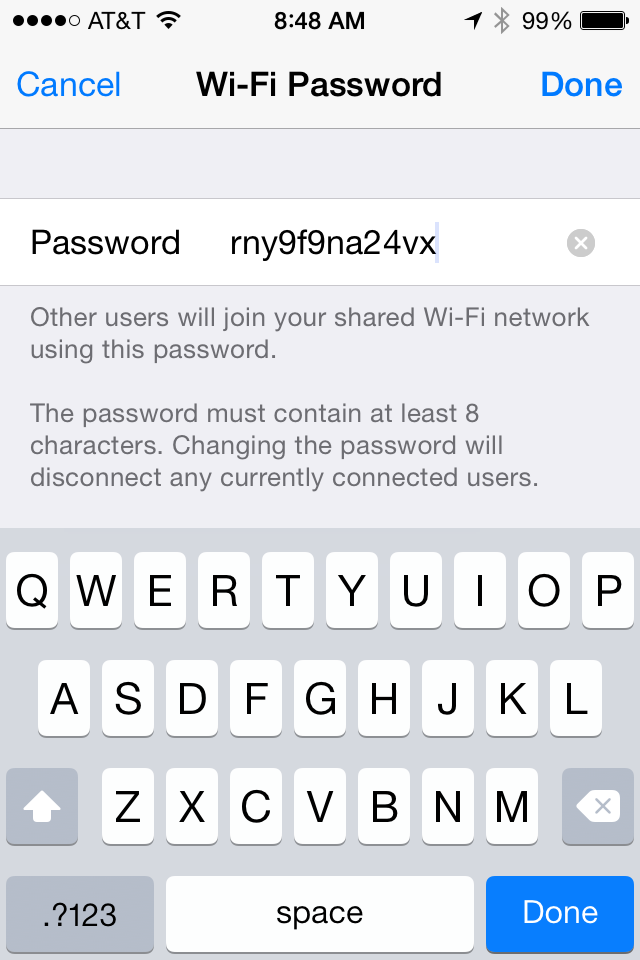 In some cases, it is more feasible to have a personal hotspot off of your phone, rather than to actually have Internet access at your home. I have met some people who get such slow speeds at their house that they use this method as their only way to connect. It is incredibly reliable and is great for any person who is constantly on the move but needs to stay connected. (If you are interested in how fast your 3G or 4G speeds can be, check out this great article that shows the latest speeds, as of Dec. 2014.)
For further information on tips and tricks you can do with your smartphone (in particular iPhones), be sure to check back here for my next series of blogs that outline cool things you can do with your smartphone. And remember, if you have any questions while you are trying to set up your own, personal, wireless hotspot, you can always contact us at Everon: 888-244-1748 (or [email protected]). We're here for you 24/7, 365!
Related posts: