Ever wanted to take a vacation but discover you missed tons of email delivered to you? Wouldn't be nice if those coworkers would read their stupid daily reminder telling them you are going to be parasailing in Cozumel? Wouldn't it just make too much sense if you could set up an auto responder so when they emailed you, they automatically got something along the lines of "Hey there, I'll be out of the office until next Tuesday. Please reach out to (whoever) in my absence, or feel free to leave me a voice mail." Well, you're in luck, because this is a simple and easy setting to turn off and on, and it will save you a few headaches.
For Outlook 2010 and 2013:
Click 'File' and then click 'Info' on the left side.
Click 'Automatic Replies (Out of Office).'
Select 'Send Automatic Replies.'
You can change he time and date by selecting 'Only send during this time range.'
Where you see 'Inside my organization,' go ahead and type the message that you want to auto-reply. This will send an auto response to all people in your network, or coworkers who email you.
Typing your message in the 'Outside my organization' will do the auto response for people outside your work (such as, say, a friend who is not your coworker, who decides to message your work email).
OK.
To turn this off, simply go into automatic replies and un-check the area to turn it off.
That's it!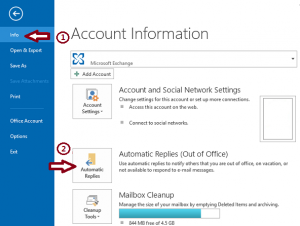 For Outlook 2007:
Open Outlook, click 'Tools' up on your tool bar and then click 'Out of Office Assistant' from the dropdown.
Select 'Send Out of Office Auto-Replies.'
You can specify exact times of when to when by selecting 'Only send during this time range,' and you can even set the start and end times.
Where you see 'Inside my organization,' go ahead and type the message that you want to auto-reply. This will send an auto response to all people in your network, or coworkers who email you.
Typing your message in the 'Outside my organization' will do the auto response for people outside your work (such as, say, a friend who is not your coworker, who decides to message your work email).
OK.
To turn this off, simply go back into 'Tools' -> 'Out of Office Assistant,' and select 'Do not send out of office auto-replies.'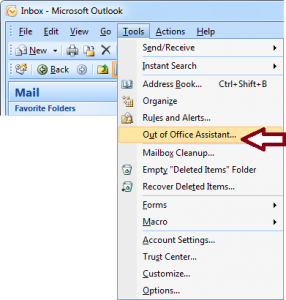 For OWA (your email website you log into from your browser):
Log into your OWA.
Click 'Options' and then click 'Out of Office Assistant.'
To turn it on, click 'Send Out of Office Auto-Replies.'
You can also specify specific times of when to when here as well.
Enter the message that you want people within your organization to see.
For external people, or people who are not coworkers, type your message where it says 'Send out of office auto-replies to external senders.'
To turn it off, click 'Do not send out of office auto-replies.'
Save (always save!)
Bing, boom, bop, you will no longer have to come back with a sunburn and jet lag, only to spend 2 hours reading through tons of email, and then to remind the people in management that you've been gone for two weeks

Related posts: