I've lately been delving into the more underused features of Microsoft Outlook. One that I've been playing around with lately actually goes by different names depending on which version of Outlook you use. In Outlook 2003 & 2007 it's called "Out of Office Assistant" and in Outlook 2010 it's simply called "Automatic Replies". I'll refer to it simply as "Out of Office" from this point forward.
For all intents and purposes, Outlook is the lingua franca of the day when it comes to email. Other email programs have this feature as well but they won't be covered here since so many of our clients use Outlook.
To launch the Out of Office wizard do the following depending on your version of Outlook:
Outlook 2003 & 2007: Choose Tools. Then choose "Out of Office Assistant."
Outlook 2010:  Click on File. Then click the "Automatic Replies" button.
Outlook's Out of Office auto reply feature is a handy tool to set when you're going away on vacation. Since everyone is so well connected these days, we all often receive and send emails even when trying to take some time off. One way to set the expectations of those you are doing business with is to use the Out of Office feature to send a reply to your business associates, vendors or customers when they email you while you're away. This feature can be customized to send a custom message and if you're using Outlook 2010 you can send a different message to coworkers than you send to non co-workers.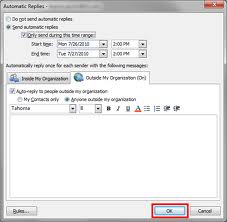 The Out of Office feature provides two tabs where you can specify a different message depending on the location of the sender of the email. For my coworkers I will often be less formal in my message and tell them who to contact in the event that they cannot wait for me to return.
The other tab allows me to specify a more professional message to those outside my organization. This allows me to tell them who to call if it's an emergency.
In both cases, Outlook also lets you set a time and a date range for the out of office message. I'll often set this message to start the Monday of my vacation and have it turn off the Friday of my last week off. You of course can use any range you feel comfortable with.
Also in both cases, all email sent during the Out of Office time I set, are sent with my default signature. This way I can control the message and the look of my email.
So tell me do you use this feature?