Microsoft released an update for Microsoft Office 2010 (KB2589275, found here: http://support.microsoft.com/kb/2589275/en-us) on September 10th, 2013 that is causing some very weird issues with end users. All of their documents in Office 2010 are turning orange, and users are not able to open any files, as it loses their file extensions!
If you come in to your machine in the morning, and you see your icons looking similar to the photo below, don't panic, here is what you can do to resolve the issue quickly: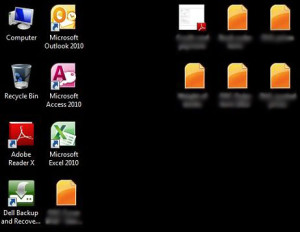 Browse to your add/remove programs and look for versions of Microsoft Office 2010. Most likely you will find a version from Sept 10th or after, and the file will be around 8mb. This is the update. Microsoft's Office package is quite large, and so this will confirm that you have the dreaded update.
Your next step, once you identify the update, is to simply uninstall it. Once it is uninstalled, all of your file associations will come back and you will be able to use your files again. You will still see the orange icons however until you reboot your machine.
Once you reboot you will be back to normal, and be aware if you have automatic updates configured, you might get the update again. You can go into your Microsoft Updates, and look for the update number, by right clicking the update you will have an option to hide the update so it never appears again.
Microsoft has yet to acknowledge the flaw in this update, however based on the community backlash that has come out, I suspect they will release a bug fix soon.
If you need any assistance with this or anything else Windows related, feel free to reach out to Everon at 1-888-244-1748.
Related posts: