Entry Feed
Trackback
Originally posted on the New York Times You're the Boss blog.  Original article can be found here: http://boss.blogs.nytimes.com/2012/04/03/tech-audit-two-owners-two-companies-lots-of-it-headaches/
April 3, 2012, 7:00 am
Tech Audit: Two Owners, Two Companies, Lots of I.T. Headaches
By
DAVID H. FREEDMAN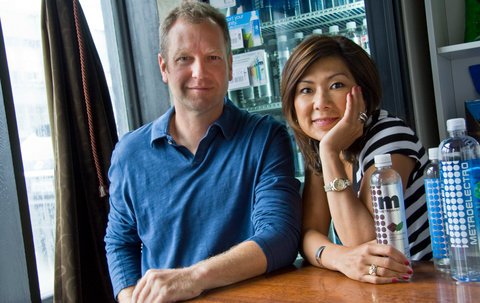 Scott Lowe and Rio Miura have two companies and plenty of information-technology issues.
Scott Lowe had been living in Tokyo with his wife, Rio Miura, for a few years when in 1996 they started selling coffee and tea by catalog. "We really wanted to open a coffee shop and then expand, like Starbucks, but we didn't have the money for it," he said. But the catalog started pulling in sales, and then in 1998 they moved back to the United States and started selling here as well, settling in San Francisco.
Their chai tea blends became their biggest seller, especially in coffee shops and specialty stores — Williams-Sonoma sells it — and soon they focused their small company, David Rio, on that one line. (Mr. Lowe's first name is David, though everyone knows him as Scott.) At that point, information technology was low on the list of the company's challenges. "We were doing business by faxes," Mr. Lowe said.
In 2003, they added a mint-infused water created by Ms. Miura, and that started taking off, leading to deals with big distributors as well as with Whole Foods, Kroger, and other large retailers. Recognizing that the battle for shelf space was very different from selling tea in shops, the two spun off the drink, called Metromint, into its own business, the Soma Beverage Company. But the two companies are still pretty much joined at the hip, Mr. Lowe said, with combined annual revenue of about $16 million and 26 employees split fairly evenly between them. "Their business models are different," he said. "But they're under the same roof, and share accounting and other resources."
The two companies share something else: I.T. headaches and the lack of a full-time I.T. guru to deal with them. "We're not big enough to afford a dedicated, six-figure I.T. guy here," Mr. Lowe said. But with 30 computers, a server and a growing dependence on software, smartphones and the Internet, the combined business is big enough to feel a frequent need for expert help. To get it, the two companies contracted six years ago with an outside firm to do many of the things an internal I.T. expert would do — except remotely.
For the first several years, Mr. Lowe himself did the best he could to keep the company's computers and cellphones up and running, with higher-powered help coming when needed from local independent contractors. But as the need grew to have help on hand day to day, he tapped one of the company's employees — the operations manager, Evan Campbell — to take on the extra responsibility. "One day I just walked up to him and said, 'Guess what? You're the I.T. guy now,'" Mr. Lowe said. Mr. Campbell has done a great job, he continued, especially considering he had to teach himself how to do it and can only give I.T. about a tenth of his time. But as the importance and complexity of the technology increased at the companies, they found that Mr. Campbell and sporadic outside help wasn't enough.
In 2006, after inviting a number of support companies to come in to pitch him on a higher level of care, Mr. Lowe signed with Everon, a division of a larger I.T.-support firm called PlumChoice, based in Billerica, Mass. (Many other firms provide remote I.T. support services, including dedicated support firms like ProVal Technologies and LogMeIn, and big companies that do it on the side, like AT&T and Staples.) He now pays a bit more than $3,500 a month, for which he gets assurance of constant up-time on all his computers, full-time monitoring for viruses and other security problems, online backup of all company data and the leasing of a server.
Mr. Lowe insists the price is worth it. If Everon determines there's a hardware problem, he noted, it will either send in a technician or send a replacement computer overnight — as happened last week when Mr. Lowe couldn't revive his laptop. (Everon charged for the replacement computer, which Mr. Lowe picked out, but Everon procured it, configured it with the needed software and backed-up data, and shipped it, all on the same day.)
Mr. Lowe was particularly impressed with Everon when his server died late in the day three years ago and a repair person drove six hours through the night to get to it and have it running before morning. "I don't think about that sort of service being worth what I pay for the contract," Mr. Lowe said. "That's worth the value of staying in business."
Still, Everon doesn't do everything an in-house I.T. manager would do. It doesn't help choose and customize application software, for example, leaving Mr. Lowe less than fully satisfied with his portfolio of software. The business relies on the software version of Intuit's QuickBooks, and while the software does a good job for most financial accounting tasks, Mr. Lowe said, it falls short when it comes to his inventory-management needs. But he doesn't feel the business has the time and expertise to migrate to a more inventory-focused package.
He also wishes he could figure out a way to set up a system that would help the sales representatives share detailed information about what sorts of promotions work best with which products and customers. He tried Salesforce.com's cloud-based, customer-relationship management service, but after several months, he determined it wouldn't do the trick without more customization than he felt he had time or money to implement. "For me, that defeats the purpose," he said. "I want it to be easy and affordable to share information."
Everon also doesn't design, set up or host the business's Web sites or assist with its Facebook and Twitter efforts — although Mr. Lowe feels that his own marketing and design people have handled all of that well, with some help from an outside development company and a hosting firm. Thanks to some successful Facebook promotions, including a Scooter giveaway, the company has more than 100,000 consumer e-mail addresses, and Metromint alone has more than 25,000 Facebook likes and more than 2,000 Twitter followers.
And there are still those niggling little things that have to be handled in person and don't justify waiting for a technician to drive six hours — things like resetting a cellphone, replacing a flash drive, getting the right passwords into everyone's computer for a new network connection or helping a frantic boss pick out a new laptop to replace the one that just melted down. For that stuff, Mr. Campbell remains on call. "It would be a problem for us if we didn't have him closing that gap," Mr. Lowe said. "He can still deal with a lot of problems."
No matter how flat or high-tech the world becomes, it's hard to beat a flesh-and-blood presence.
You can follow David H. Freedman on Twitter, Facebook and on Google+.

Share on Facebook


Email This Post