The Value of Everon's Managed Services
Information Technology (IT) has become an undeniably critical component of all business operations. Your business success depends on your IT infrastructure. Managed IT services provide you the unlimited proactive support that not only keeps your network running effectively and efficiently, but it helps you reach your business goals. While you focus on your core business, Everon provides you with an enterprise level IT department for less than it would cost you to manage your IT in house. Our "Virtual IT Department" gives you access to a comprehensive suite of tools and process that normally have been available only at the largest companies. Everon will design and effectively manage your day-to-day IT needs while we provide strategic guidance to make sure you get the most from your IT investments.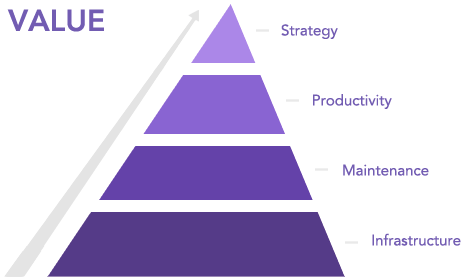 Everon's Approach is Simple and Will Immediately Deliver Increased Performance, Security, and Reliability
Technology can be thought of on a continuum beginning with the proper infrastructure and ongoing maintenance. Once the foundation of your technology is in place the focus shifts to increasing employee productivity and efficiency. Many businesses never reach the top of the pyramid, and never realize the dramatic effects that technology can have on achieving business success. Everon will work with you to review your business goals and ensure the right technology is in place to allow your business to succeed.
The Everon Solution
The Everon solution provides support, management, and strategic guidance in many areas; PC Management, Server Management, Network Management, CIO Services, Data Backup and Cloud Computing. Everon will design a technology support plan that will meet your specific needs.
Full Service IT Department
Technology is a vital aspect of just about every business; it is critical to both the day-to-day operations and the strategic growth of your business. Having a complete IT department with a CIO, Network Manager, Help Desk, and Purchasing Manager is out of reach for most organizations. With Everon's simple approach and pricing it is now easier than ever to have the resources of a complete technology department.
Our Clients
Everon works with progressive companies and organizations that know the value of technology and want to get the most out of their IT investments. Everon currently provides services nationwide to thousands of users and hundreds of small and medium size businesses in a variety of industries including:
Law Firms
Architects
Advertising Agencies
Investment Firms
Consultants
Universities
Accounting Firms
Non-Profit Organizations
Media Companies
Real Estate Firms
Technology Companies
Engineers
Contact us today to discuss your IT support & management goals.
Our Boston It Support Service Area Includes: Boston, Cambridge, Newton, Arlington, Brookline, Somerville, Medford, Waltham, Wilmington, Wellesley, Needham, Watertown, Quincy, Braintree, Weymouth, Framingham, Norwood, Burlington, Woburn, Lexington, Lowell, Danvers, Peabody and The Surrounding Region.
Our Denver It Support Service Area Includes: Greater Denver, The Front Range, Boulder, Broomfield, Westminster, Northglenn, Thornton, Superior, Lafayette, Louisville, Longmont, Arvada, Golden, Wheat Ridge and The Entire Surrounding Region.