A while ago at Everon I had to troubleshoot a pretty complex wireless system, set up by Cisco. I had to call Cisco to discuss their setup, and I was fortunate enough to get a technician who was so passionate about his job, he decided that once the issue was resolved, he would like to give me a 1-2 hour lesson on wireless technology, regardless of the Cisco brand. For the 1-2 hours he spoke to me on the phone, I feverishly tried to write down notes on every single thing he said. I wish I'd had a record of the call we had together, as I would go in and make better notes. It was one of the best lessons I have ever received.
Technicians who work on certain brands, whether it is HP, Dell, Cisco, whatever… in my experience they all seem to be reading off of a sheet and don't really care if you understand what they are discussing, as you blindly follow their instructions. And, for the most part, I do blindly follow their instructions. (Because how can I argue about the results? Its their equipment!) But occasionally you will find that one technician who is so passionate about his (or her) field of expertise, that he would like you to experience it as he does. I was so fortunate to have this experience come to life a few months back. (In all honesty, I think that is the way some of our engineers operate here, at Everon, as well. We don't have rigid scripts, we get a call, and we work on it based on our own, personal knowledge, the knowledge of our peers around us, and various tools, so every interaction can be different and exciting. If you are excited to learn what we are doing, we are equally as excited to teach you!)
Anyways, that is my tangent on technicians, now back to wireless technology….
Out of everything the Cisco engineer showed me, one thing he said needs to be done before you purchase any wireless equipment is a wireless site survey. I had never thought of that previously, but it makes sense. How do you know what you need? How much ground do you need to cover? What type of signal strength can you get by with? All of these questions can be answered by a professional who does site surveys for a living. However, if you were interested in doing one yourself, or even if you needed to troubleshoot your existing wireless, what tools do you have at your disposal? It isn't like you can actually see wireless to be able to troubleshoot, so what can you use to help you understand wireless? (There are many different products for Windows machines, none of which I will get into here, as this article is for the Mac engineer who is in need of troubleshooting wireless.) I encounter instances like this all the time, where I am sent out to a client's location, and I have to troubleshoot much more than a simple Mac. Sometimes I will need to troubleshoot their environment and, for wireless environments, I find the best tool for anyone with a Mac is NetSpot.
NetSpot can be downloaded here for free: http://www.netspotapp.com/netspotpro.html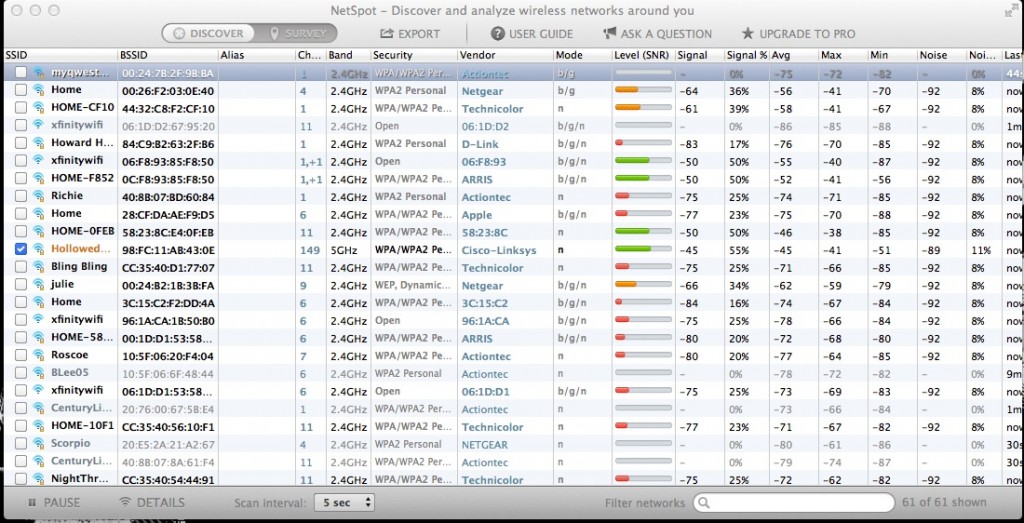 The Pro version is for commercial use. The free version can only be used on you and your friends' home networks. My advice would be if you are going to begin doing site surveys, spend the $149.00 and get the Pro version. The Pro version also includes unlimited data points in every zone (the free version allows 50), flexible grouping of various items in the survey such as APs, SSIDs, channel, vendor, etc (free only allows grouping via SSID), and much more.
However, if you are learning how to do wireless site surveys, the free version is great. It gives you a ton of information on your wireless network, such as the SSID, band (2.4 GHz, 5 GHz), security (WEP, WPA, etc), vendor, mode (b/g/n), level (signal to noise), signal percentage, the noise in DBm, and much more. It updates in real time, and doesn't take up much battery life on your Mac. Using this app is a great first step into reviewing a network, as it will easily allow you to see any issues without the need to jump into the AP or wireless router.
Check out this tool, and if you would like to discuss it further, any of our engineers at Everon would love to talk wireless! Call us at 888-244-1748.