In this TechTip, I want to discuss briefly an error message I've been asked about in Office 365 that led one of my peers on a wild goose chase.
The error, verbatim, reads: "Value cannot be null. Parameter name: identity"
This message pops up when trying to create a rule in OWA whereby you are trying to specify a group as either the sender or the recipient. So, while it would make sense to have a message from "sales@somecompany.com" go to an internal Distribution Group of "salesgroup@yourcompany.com," the mechanism within Exchange Online that processes Transport Rules cannot enumerate the members of a DL and, as such, will not allow you to create a rule that forwards to a distro group. Unfortunately for us mere mortals, the message doesn't make a whole lot of sense and doesn't give you a whole lot to go on as to where to look next.
The only workaround to this is to abide by the restrictions that Microsoft hath lain before us: list all of the destination emails individually.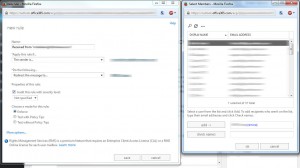 For larger groups of people this becomes a huge pain in the posterior. Yes, I've complained. No, they won't do anything about it. Unfortunately, this is all by design, and there are no plans in place (that I'm aware of) to change it anytime soon.