A few days ago, I confronted a project: the annual update for our 37-person company directory. I knew I wanted something better than the generic, blank form I'd emailed out last year. I also knew there had to be something easier than copying and pasting our existing records – of every single person – in order to individually email them all.
There was!
I was already quite familiar with Word's Mail Merge function, having used it for years to convert my personal address database into print-'em-off, peel-and-stick labels for my Christmas cards. (No, that's not cheating. It's efficient time-management.) But I couldn't find a similar mail merge function in our email software — we currently use Outlook 2010, at work. So I ran a search in Outlook Help. The answer to my email dilemma… was back in Word!
1. I started a new Word document, went to the "Mailings" tab and, from the "Start Mail Merge" dropdown, I selected "Email Messages." Then I typed up the basic version of the letter I wanted to email out to everyone.


2. Next, I went back to the "Mailings" tab. This time I clicked the "Select Recipients" dropdown. I already had the old database from last year, so I picked the "Use Existing List…" option and browsed for my file. (Note: in order for this to work, you need to have your recipients' email addresses as one of your database's fields. You'll need it for Step 4.) I added the fields that I wanted personalized in my generic letter. (Dear <<Name>>…,)


 3. Just like in a regular Mail Merge, with an email merge you can edit your recipient list and preview your results to check for errors. When you're happy with how it all looks, go to "Finish and Merge" and select "Send E-mail Messages…."


4. Then, from the dialogue box that pops up, select your database field that contains the email addresses.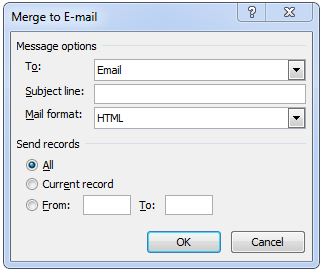 5. When that's done, click "OK." Boom. Messages all sent. You're done!